I- joist: sizes, span and cost per foot | I- joist sizes | I- joist cost | I- joist span | I- joist cost per foot | 18″ i- joist | 16″ i- joist.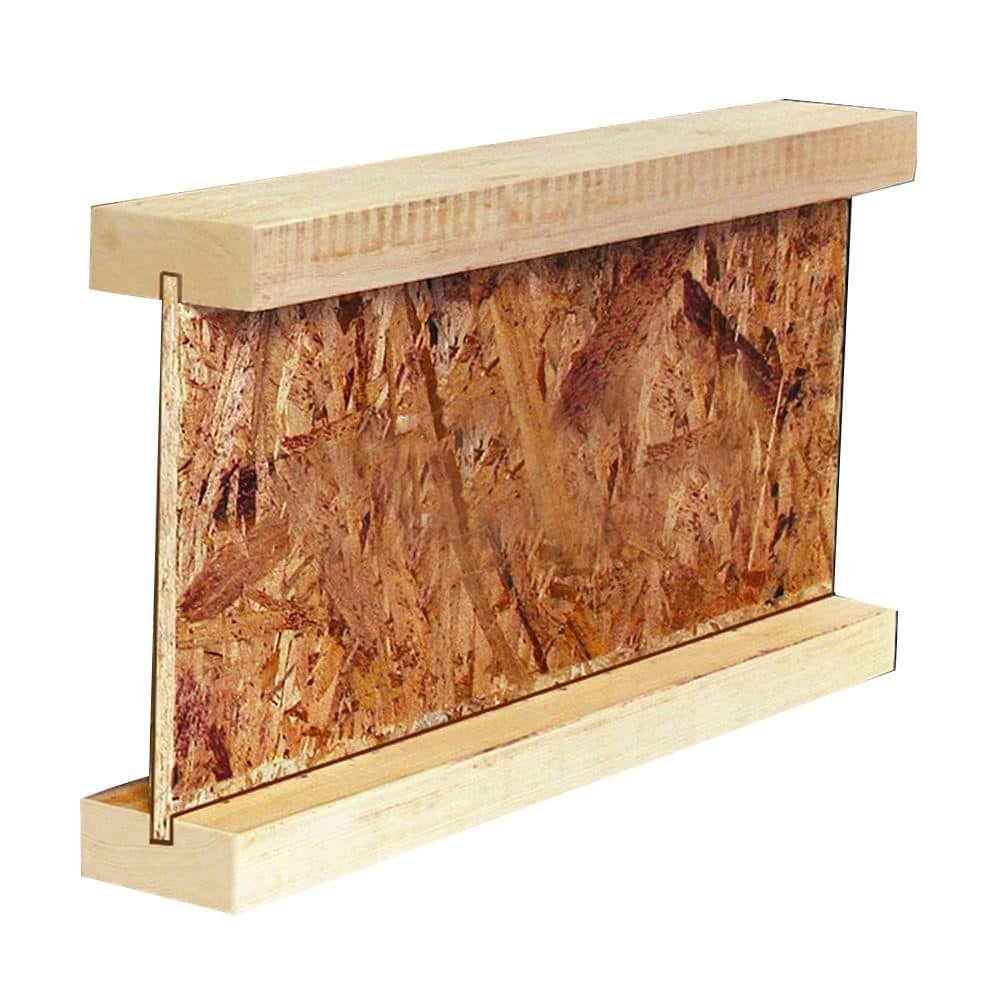 I- joist is commonly known as an engineered wood joist, is a product designed to eliminate problems that occur with conventional wood joists. It is invented in 1969. The I-joist is an engineered wood product that has great strength in relation to its size and weight.
The main notable difference from traditional dimensional lumber is that the I-joist made of engineering wood carries heavy loads with less lumber than a dimensional solid wood joist. On approximately 50% of all wood light framed floors used I-joists. I-joists were designed to help eliminate typical problems that come with using solid lumber as joists.
An I-joist has containing two main parts, the web and flange. Depth of i joist describe by height of the vertical member that is web and their width equal as width of horizontal member that is flange. The web is sandwiched between a top and bottom flange, creating the "I" shape, that's why its name i joist.
The flange of i joist can be made from laminated veneer lumber or solid wood finger-jointed together for ultimate strength. It is grooved on one side to receive the web. The web is typically made from plywood, laminated veneer lumber, or oriented strand board.
I joist sizes vary according to the I-joist's intended load and span. Depths can range from 9.25 to 24 inches (235 to 610 mm) and reach up to 80 feet (24 m) in length, although 40 to 42 feet (12 to 13 m) is more common.
There are different depth of i joist are used in roof and floor construction, 1-3/4″×9-1/2″, 1-3/4″×11-7/8″, 2-1/16″×11-7/8″, 2-5/6″× 11-7/8″, 3-1/2″×11-7/8″, 3-1/2″×14″, 3-1/2″× 16″ are commonly used size of i joist
I joists can be define as several small beams. It is typically a horizontal structural member that runs across an open space of building on supporting wall or studs. Generally it is used in long span structure take the load from slab, then transfer to beam, beam transfer this load to column and then finally column transfer this load to foundation and foundation safely distribute the load in soil.
Commonly it has a small cross section as compared to beam. Their function is similar as beams, except floor joists are supported by wall, foundations, or beams framing.
I joists usually run between walls or rafters to support a ceiling or floor. They transfer the dead load of the subfloor and floor finishes and live load of people, furniture and furnishings to beams, walls, headers, or foundation walls. It is like the skeleton/ framing of a building that supports the load which the floor is built to bear. Joists are technically beams that typically spans relatively short distances compared to beams and are made of wood, steel, or engineered wood or lumber.
I- joist span depending on different size of Lumber, species of wood, grade of wood, spacing between the joist, expected dead and live load of structure that coming to joist. The loading includes dead load of the weight of the frame structure & fixed weight and live load of People, furniture, appliances and a snow on the roof.
Spacing between i joist for different sizes are kept at 12 inches, 16 inches and 24 inches apart. The i joist which are kept at lower spacing can allow longer distance to span as compared to joist spaced further apart. Standard spacing between floors joist is 16 inches.
What is i joist ?
I-joist is strong, lightweight, "I" shaped engineered wood structural members that meet demanding performance standards. I-joist are comprised of top and bottom flanges, which resist bending, united with webs, which provide outstanding shear resistance.
The flange material is typically laminated veneer lumber (LVL) or solid sawn lumber, and the web is made with plywood or OSB (oriented strand board). The robust combination of structural characteristics results in a versatile, economical framing member that is easy to install in residential and light commercial projects.
◆You Can Follow me on Facebook and
Subscribe our Youtube Channel
Common i joist application
I-joist is used extensively in residential floor and roof framing. They are ideal for long spans, including continuous spans over intermediate supports. Because I-joist is straight and true, it's easier for builders to avoid crowning and maintain a level framing surface. In addition, wood I-joists are typically stocked and readily available in depths that meet the needs of residential framing.
I joist sizes
I joist sizes represented by its depth and width. Common Depths are 9-1/2″, 11-7/8″, 14″, 16″. Flange widths vary from 1-1/2″ to 3-1/2″, and lengths are upto 13 meters.
I joist common uses
I-joists are popular for floor and roof framing. Many APA member-manufacturers have software design tools; contact the manufacturer (at right) for more information.
I joist cost
I joist cost depend on wood product quality, size, length and location. This will range between $5 to $9 per linear foot. A 9 1/2″ size of i joist costs around $5.47 per linear foot and $109.4 for 20 feet. A 11 7/8″ size of i joist costs around $6.18 per linear foot and $123.6 for 20 feet. A 16″ size of i joist costs around $8.36 per linear foot and $167.2 for 20 feet.
I- joist span
The maximum length of I-Joist we can span is about 40 feet (13 meters), although this would be broken up over intermediate supports.
The thumb rule for the depth of common i- joists is to take half span in feet; to this number add 2 for the depth of the joist in inches. Example, for a 18 Feet span, half this is 9, add 2, which gives 11 inches for the depth. So a 2×12 i joist will be required. it's important to use the actual engineered wood dimensions, not the nominal dimensions).
● How much topsoil do you need per square foot
● How much does a 2 cubic foot bag of mulch weigh
● How much does a cubic foot of gravel weigh
● How many bundles of shingles do i need for a 2000 square foot house
● How many studs do i need for a 10′, 12′, 14′, 16′, 20′ & 24 foot wall
Typically, this thumb rule work better for residential floor loads are assumed to be 50 pounds per square foot (40 pounds live plus 10 pounds dead), and this rule of thumb will work for loading conditions that don't exceed that value. If the floor system is to be tiled or there are any other unusual loading conditions, I'd recommend having an engineer review the conditions.
Conclusion:
I- joist is commonly known as an engineered wood joist, is a product designed to eliminate problems that occur with conventional wood joists.