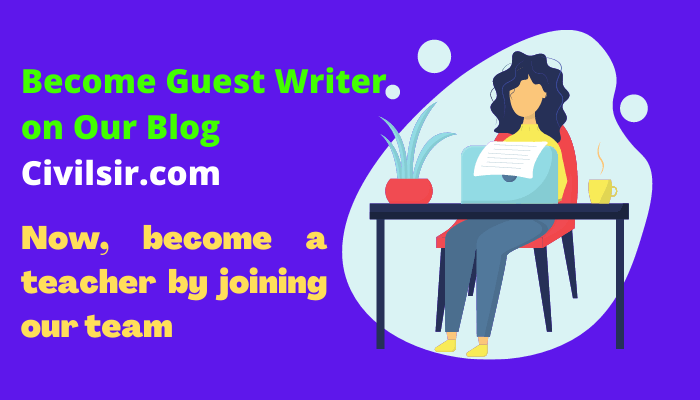 We are happy to inform you that on your favorite civil website civilsir.com you can become a content writer and share civil knowledge with the readers.
Yes. If you have knowledge related to civil engineering and if you are fond of writing, if you have a desire to teach, if you want to share your knowledge with others, then this can be a golden opportunity for you.
Actually, we need content writers for this site.
Any interested person who wants to write content on this site can also earn a lot of money, they can make their identity, and can also share their knowledge.
Eligibility criteria for becoming a writer
You should have knowledge of civil engineering
You must have good writing skills.
The article must be 100% unique.
The article should not be copied from anywhere.
Articles can be written in either English or Hindi language.
If necessary, the article should also have an image.
Benefits of writing for this blog
Yes. Many people must be thinking that what are the benefits of writing articles for this blog. So let's know about it
Teaching will give you knowledge and experience.
Your writing skills will increase.
You can earn money.
You are given money according to each article or according to the words of the article.
You can earn money from at least 200 to 1000 for one article.
Your identity will increase.
How to contact us?
Now if you have decided to become a writer for this blog then the next step is to contact us.  There are many ways to contact us which are given below-
You can mail us or can message us on our social media page.