best waterproof paint for exterior walls and paint for waterproofing,in this article we know about best waterproof paint for exterior walls and paint for waterproofing. Waterproofing paint containing exterior emulsion is anti bacterial, anti fungal, anti algae,anti dust pick up and it can provide weathershield coat against dampness and weather condition. We explain best paint of india in man's language that whenever we go to buy mineral water in india at any shop what do we say ? give me one bottle of Bisleri of water or Bisleri hai kya? but shopkeepers provides other brand also sometimes. in case of Asian Paints and Nerolac, Berger, Nippon and dulux the same things is followed ,customer blindly ask for the Asian Paint without knowing the quality of other pants.
◆You Can Follow me on Facebook and Subscribe our Youtube Channel
You should also visits:-
1)what is concrete and its types and properties
2) concrete quantity calculation for staircase and its formula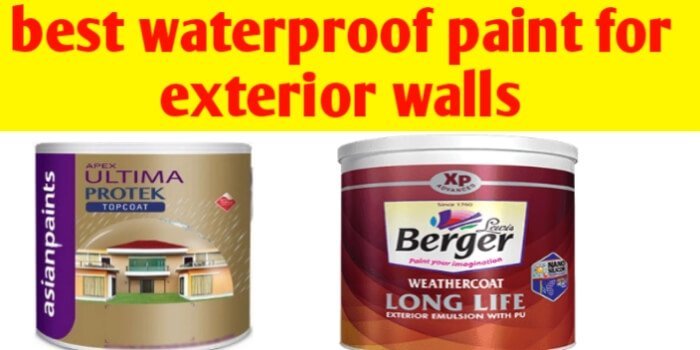 best waterproof paint for exterior walls
When people want to colouring and painting their own house they want to know best waterproof paint for exterior walls.their answer is not quite easy to say best paint for exterior walls in india.many of people familiar with using of Asian Paint. Asian Paints score over the competitors into major factors.
1) coverage area :- one litre of Asian Paint will cover more area the technical term is their hinding power. the hinding power of Asian Paint is higher than other brand paint, you can compare the product coverage area it's usually mentioned in the product literature, check the coverage per litre for two coats.
2) longer life:- all the brand of Asian Paints have slightly edge when it's come to technology. the colour stay bright for longer time the paint integrity is more. Though the price per litre may be more the total cost involved in the paint will work out to be cheaper no fading, no dust pickup.
Best paint companies in india 
People ask some time which is best paint companies in India. In this article we mention 5 best paint companies in india is Asian Paints Private Limited, kansai Nerolac paint Private Limited, Berger paint India Private Limited, Nippon Private Limited and Dulux paints Private Limited.
1) Asian paints :- Asian Paints is pioneer of the paint business community that offers the broad assortment of paints worldwide for both lightening up and mechanical reason. it was developed in the year 1942 and hold about more than 20 delivery units and more than 17 countries all over the world.
2) kansai Nerolac Paints Limited :- Indian company Nerolac collaborated with leading brand of Japanese company Kansai so Nerolac paint used the technology of Japanese company. It is the second greatest covering Association in India that's offers the broad assortment of paint for both advancing and mechanical reason. Nerolac paint private limited company developed in the year 1920.
3) Berger Paints India Limited :- is an Indian paint Association that was developed in 1923 and their headquarter is in Kolkata and they provide broad assortment of paint both for weathercoat shielding and waterproofing and exterior emulsion for waterproofing.
4) Nippon paint Private Limited :– Nippon is Japanese Paints Association that's offers the product broad assortment of best quality paint in India.
5) Dulux paints :- it is an overall paint Association that offers the broad assortment of paints across India.
Best paint for external wall
best paint should be exterior emulsion that's provides damp proof and waterproof for exterior wall and weathersheild. Best paint in India for exterior wall paint are formulated to withstand in entrance condition of heat, rain and dust ,Indian climatic condition are moderately hot and humid, all acrylic resin compound and system containing paint for exterior Paints offer better result over other under varying atmospheric condition. Best paint should be antifungal, antibacterial ,antialgael, anti dust pick up and provide resistance and weathershield coat against moisture or dampness and heavy rainfall.
Best paint brand in india 
Best paint brand in india for external wall and for waterproofing paint consist of Asian Paint like Apex Ultima, asian paint apex and Apex Ultima protek and dulux weathersheild max, Nerolac Exel mica marble,Berger weathercoat long life, and Nippon Shogun are some of best paint brand in india used for external wall paint and waterproofing.
1) Asian Paints Apex Ultima and Apex ultima protek are good waterproofing paint for exterior wall. Both these Asian Paint is based on 100% Acrylic smooth emulsion with silicone additives that offer anti-algal, anti-bacterial, anti fungal and high performance exterior wall finish. And coverage area of Apex Ultima is 55 to 65 square feet per litre of two coats. In comparison of using Apex and Apex Ultima protek ,Protek being used because of its quality which provide weatherproof protection to exterior wall from heavy rain and moisture and also it provides great finish as compared to just using Apex.
2) Berger weathercoat long life exterior emulsion is a luxury category exterior emulsion, the first paint to use PU and Silicon Technology. This product is designed for heavy rainfall areas and provide excellent protection against extreme heavy rain and exterior wall issues.PU gives robust film strength and stress to the paint film.morever it comes with 10 year performance warranty this product have good bondability with old and new concrete bricks and stone, it is good waterproofing paint and prevent any seepage or dampness, it increase the mechanical strength of mortar and hence prevent any cracks.
3) Nerolac Excel mica marble and top guard is extremely durable ultraviolet resistance water based exterior emulsion with enhances barrier protection,paint film re-inforcement inter-coat adhesion and toughness
4) Nippon Shogun specially formulated acrylic modified based exterior emulsion paint suitable for exterior in dry and less humid weather condition.superior ingredients in ensure that exterior wall is protected from algal and fungal attack and hence Keeping It spotless for longer period.
5) Dulux weathershield Max is a high performance exterior paint powered by active guard technology which actively exterior wall against rain antifungal antibacterial and anti-dark pickup and resistance against dampness.
Best paint for exterior walls in india
Asian Paints products like Apex Ultima, Apex Ultima protek are best paint for exterior walls in india. Asian Apex Ultima protek system in India is most advanced Exterior painting system that gives your home Holistic protection along with unmatched beauty horizontal surface like chajjas, border end,terrace along with exterior wall. Apex Ultima Protek its colour, does not fade away, it protects your walls from any seepage when it become raining and their finish would not get hampered easily. it is actually the most preferred paint for painting the exterior walls.
I also recommended the use of exterior wall paint Berger weathercoat long life is good for exterior wall painting and it has 10 years warranty and also have in medium range weathercoat anti dust available in market.
Paint for waterproofing
There are different types of paint used for waterproofing exterior wall, interior wall, toilets kitchens and etc. While these are number of choice of paint products out there from different brand and choose yourself according to your requirement, according to your economical condition, according to your environment location, areas, humidity, and type of works like. There are following best paint for waterproofing for exterior wall
1) Asian Paint like Apex Ultima, asian paint apex and Apex Ultima protek and duralife
2)dulux weathersheild max
3) Nerolac Exel mica marble
4)Berger weathercoat long life
5) Nippon Shogun
Conclusion :- I have write this article according to my experience and knowledge, while selecting and choosing which one is best paint for exterior wall waterproofing you should do not confuse and use your mind for selecting Asian Paint or Berger ,Nerolac all are good brand and they produce good quality of paint for exterior wall. every people have different requirement of using paint for waterproofing so first you should decide your requirement and then decide to select one of these brand for exterior wall paint and waterproofing.